Coronavirus update posted 19 March 2020:  please note that rehearsals are postponed until further notice.
Rehearsals are held on

Mondays 7.15 pm to 9 pm – 


at the Goosecroft Centre, 

Goosecroft Lane, Northallerton DL6 1EG
Rehearsals dates for 2020:
April: 6, 27; May: 4, 11; June: 1, 8, 22
July: 6, 13, 27; August: 3, 10, 24; September:  7, 14, 28
October: 5, 12, 26; November:  2, 9, 23; December:  7, 14
—————————————————————————————–
2020 concerts
on 22nd February we did a joint concert with Darlington Community Wind Band, at The Golden Lion Hotel, Northallerton.  Thank you to everyone who helped and took part.
2nd May, Masham Music Festival
—————————————————————————————–
Concerts 2019
Saturday 2nd February 2019 at 7 pm
Combined Concert with Alverton Brass in The Golden Lion Hotel, Northallerton
This was a really excellent concert, thoroughly enjoyed by audience and players.
The evening raised over £400 to be divided between
Bloodwise and Herriot Hospice Homecare.
On 27th April we gave a concert in Kirby Hill Church for Church Funds –
thank you Kirby Hill for inviting us to perform
our 10th Anniversary Concert in your beautiful Church.
We had a most enjoyable evening – see some photos from the event on our 'about' page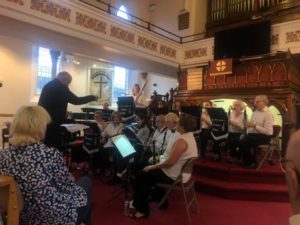 on Friday 26th July we gave a concert in aid of the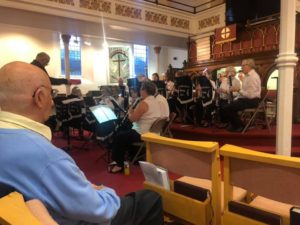 Sporting Memories Charity at Northallerton Methodist Church
it was a most enjoyable evening and raised £530 for the Charity
here are 2 photos from the evening
(go to the Charities support page to read some of the text from a letter received from the Sporting Memories Foundation and to the Welcome page to hear an excerpt from the concert)
During the Christmas Season 2019 
we played at Northallerton Christmas Tree Festival
on Saturday 30th November from 3 pm to 4 pm

we also played at the pub in Melmerby on Sunday 8th December
Our Christmas Concert 2019 was at Kirby Hill Church
on Friday 13th December

—————————————————————————————–
We had a lovely time playing at Chloe and Christian's wedding on 5th October 2018. 
Chloe looked fantastic (Christian wasn't too bad either).  
In spite of the bad weather it was a really happy time at Crathorne Hall.
 

If you would like to book us to give a concert, or to play at your function or wedding,

contact Wendy on 07933 337877  or Chris on 01609 773767   

or email northallertonwe@gmail.com
our CD is available – here's a short sample from Teddy Bears' Picnic
and another short sample from Scarborough Fair
to order a copy of the CD (11 tracks)
ring either of the numbers above or send us an email