Rehearsals are held on Mondays 7.15 pm to 9 pm – 
at the Goosecroft Centre, 

Goosecroft Lane, Northallerton DL6 1EG 
Next rehearsals for 2018:
November 19th (United Reformed Church DL7 8JZ) 26th
December 3rd, 10th
Rehearsals for 2019:
January: 7th, 14th, 21st (United Reformed Church DL7 8JZ), 28th
February: 4th, 11th, 25th
March:  4th, 11th, 25th
April:  1st, 8th, 29th
May:  13th, 20th
June:  3rd, 10th, 24th
July:  1st, 8th, 22nd, 29th
August:  5th, 12th, 19th
September: 2nd, 9th, 23rd, 30th
October: 7th, 14th, 28th
November: 4th, 11th, 25th
December: 2nd, 9th
—————————————————————————————–
CONCERTS and FUNCTIONS 2018
We played at the Goosecroft Centre for a Valentines Dinner on Friday 16th February
We enjoyed our summer concert at  The Hub Hutton Rudby in June raising £507.50 for Water Aid,  special thanks to our guests Anna Johnson, singer and Lilly Smith, flautist.


thank you to everyone who played in and supported the concert on Friday 28th September at Stokesley Methodist Church.  Many thanks to Stokesley Methodist Choir,  

it was a privilege to share the stage with you.  
the concert raised a magnificent £700 for the Halo Project in Middlesbrough
We had a lovely time playing at Chloe and Christian's wedding on 5th October.  
Chloe looked fantastic (Christian wasn't too bad either).  
In spite of the bad weather it was a really happy time at Crathorne Hall.


————————————————————————-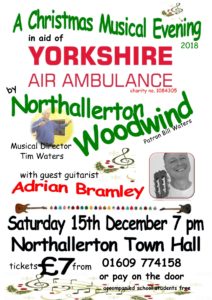 STILL TO COME THIS YEAR
Saturday 15th December 2018 at 7 pm
Christmas Concert in Northallerton Town Hall
with guest Adrian Bramley
—————————————
we are already taking bookings for 2019
Saturday 2nd February 2019 at 7 pm
Combined Concert with Alverton Brass in The Golden Lion Hotel, Northallerton
—————————————————————————————–
If you would like to book us to give a concert, or to play at your function or wedding,
contact Wendy on 07933 337877
or Chris on 01609 773767
or email northallertonwe@gmail.com
our new CD is ready – here's a short sample from Teddy Bears' Picnic
and another short sample from Scarborough Fair
to order a copy of the CD (11 tracks) ring either of the numbers above or send us an email